Let me ask you a question…
Would you rather save money in a currency whose supply is inflating each year? Or would you rather save in a currency whose terminal supply is programmatically fixed?
Given everything going on in the global economy, this is a question we've had to start taking seriously as Snappa continues to scale and produce growing amounts of free cash flow.
It became even more important when our bank slashed the interest rate on our "high interest" savings account to 0.45% earlier this year. This means that the purchasing power of our Canadian and U.S. dollars is actually decreasing after adjusting for inflation.
Fortunately, I believe we now have a far superior savings technology available to us. That technology is Bitcoin.
After falling down the rabbit hole and spending hundreds of hours studying the underlying protocol and all the game theory behind it, we began steadily accumulating bitcoin beginning in March of this year. This position now makes up more than 50% of our company's treasury reserves.
In this article, I will explain the full reasoning behind this decision.
A Brief History About Money
In order to truly grasp the significance of Bitcoin, it's important to understand the history of money. Even though I majored in finance with a minor in economics, this topic was completely glossed over when I attended university.
If you go back thousands of years, you'll learn that various groups of people adopted different forms of money in order to facilitate trade. Money took on various forms including seashells, glass beads, and eventually precious metals. You can read more about the origins of money in Nick Szabo's brilliant piece titled Shelling Out.
Using collectibles as a medium of exchange within tribes worked fairly well but eventually became problematic as global trade began to flourish. What some groups found out the hard way is that scarcity is one of the most important factors when it comes to money. If the supply of your money can be inflated away, your purchasing power will plummet as a result.
This is exactly what happened to the West Africans in the 15th century. At the time, glassmaking was unpopular in West Africa thus glass beads became highly sought after and used as a medium of exchange. Unbeknownst to them, Europeans developed the capacity to reproduce these glass beads very cheaply. As a result, Europeans were able to exchange their cheaply made glass beads and exploit West Africans for more valuable resources including ivory, gold, and even slaves.
A similar situation happened to India and China in the 20th century with the demonetization of silver. Since silver is more abundant and easier to mine than gold, it enabled foreigners with silver to come in and control increasing quantities of goods and capital from India and China.
In order to avoid the destruction of wealth experienced by the West Africans, Indians, and Chinese, the world naturally converged on gold, which was the hardest form of money available.
Although gold served as a great form of money due to a variety of factors including durability, portability, and fungibility, I would argue that scarcity is the most important factor of all.
Since gold was (and still is) costly to mine, the supply of new gold coming above ground has remained consistently low at around 1-2% per year.
Due to this scarcity, gold has maintained its purchasing power over time. While an ounce of gold was valued at $20 USD in 1920, that same ounce of gold is now worth close to $2,000 USD. Said differently, the U.S. dollar has lost 99% of its purchasing power relative to gold over the course of the last century.
You'll also notice in the graph above that the devaluation of the USD accelerated significantly after 1971 when the U.S. abandoned the gold standard (we'll come back to this point later on).
Now that you understand a bit about the history of money and how scarcity drives gold's value, let's take a closer look at Bitcoin.
Bitcoin and Digital Scarcity
Bitcoin is incredibly complicated yet extremely simple at the same time. Although the Bitcoin protocol incorporates cryptography, proof of work, difficulty adjustments, and a bunch of other pieces to make it all work, they all help achieve one primary goal: digital scarcity.
If there's one thing you need to understand about Bitcoin it's the fact that there will only ever be 21 million. This 21 million cap was hard-coded into the protocol and its consensus rules are upheld by thousands of nodes running the software.
When Bitcoin was first unleashed on the world in 2009, the reward for "mining" a new block was 50 bitcoin. After the most recent halving in May, the reward is now down to 6.25 bitcoin per block.
This reward will continue to get cut in half roughly every 4 years until the very last (fraction of) bitcoin is mined sometime in 2141. Although it will take another 120 years for the very last bitcoin to be mined, over 99% of the total supply will be mined by the end of 2034!
Here's a graph showing Bitcoin's supply schedule: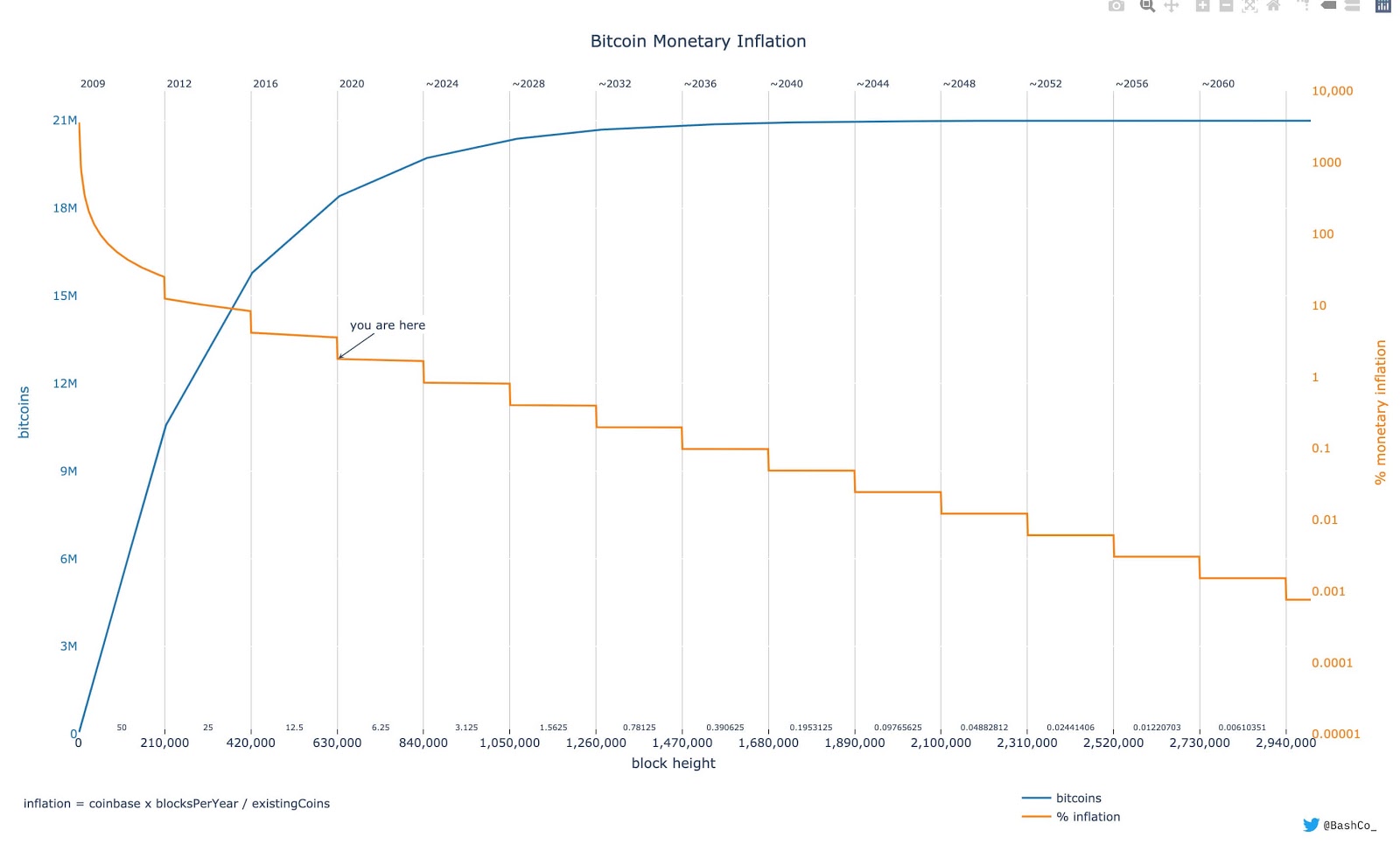 Unlike fiat currencies which are getting less scarce over time, Bitcoin is getting more scarce over time.
Stock to Flow
In the book The Bitcoin Standard, Saifedean Ammous introduces a concept called stock to flow, which is used to quantify the scarcity of a good. Stock represents the total supply in circulation and flow represents the amount of new supply per year that is coming into existence.
Using gold as an example, there is estimated to be 190,000 tons of gold above ground (stock) and 3,260 tons of new supply coming onto the market (flow). Thus, by dividing 190,000 by 3,260, we arrive at a stock-to-flow (S2F) value of 58.3.
Since Bitcoin is open-source and fully transparent, we can actually measure Bitcoin's S2F with 100% certainty at any point in the past and at any point in the future. With Bitcoin's most recent halving behind us, the current S2F of Bitcoin is 56 which is roughly the same as gold. However, after the next halving, Bitcoin will be twice as scarce as gold.
Knowing there's a relationship between gold's scarcity and its monetary premium, a pseudonymous quant trader known as PlanB attempted to model Bitcoin's value with scarcity back in March of 2019. With a shockingly high R2 of 95%, the original model showed that there is in fact a strong correlation between Bitcoin's price and its S2F.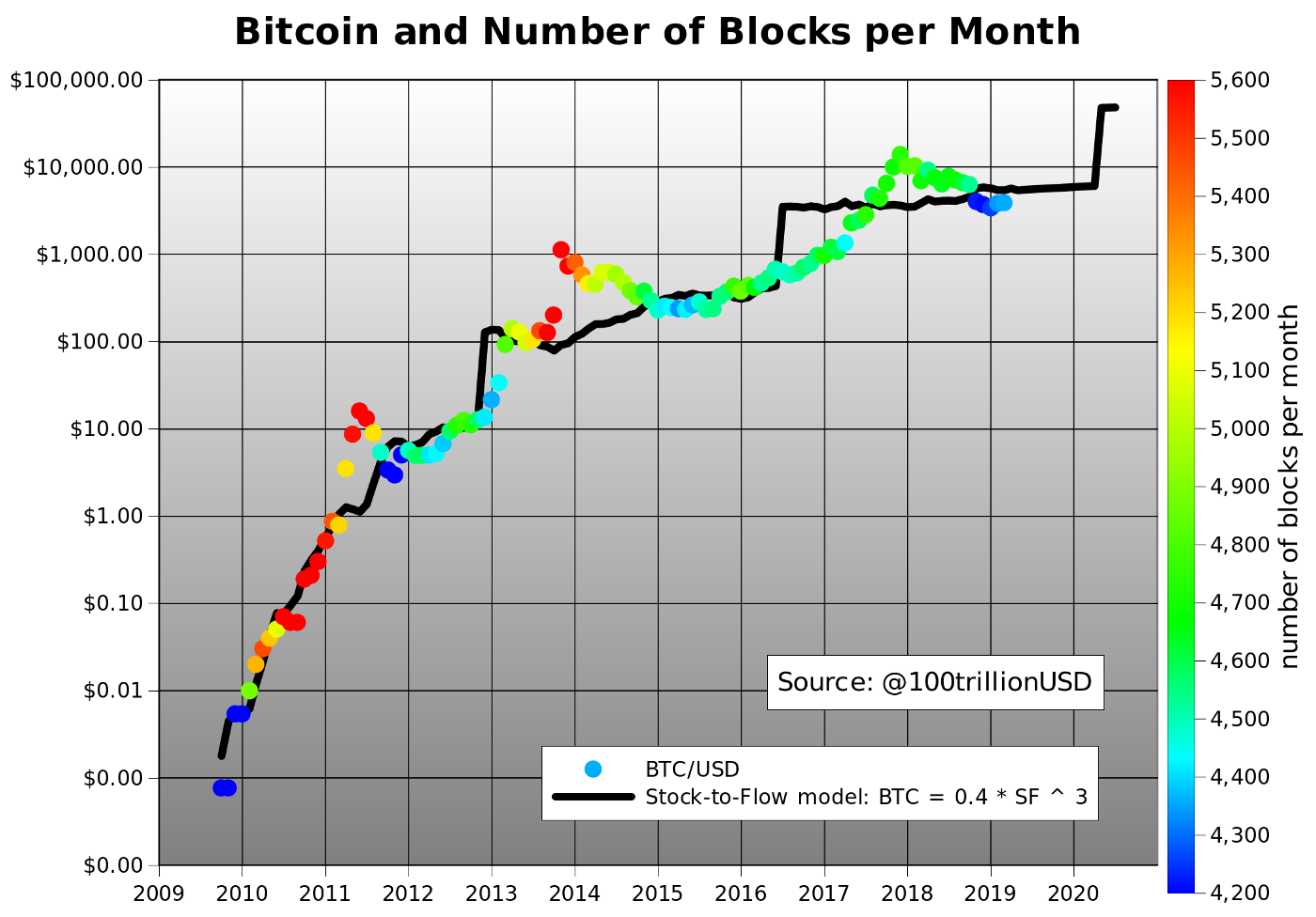 PlanB would later update the original model to a cross asset price model. This latest model predicts that the price of bitcoin could reach $288k in this current 4 year cycle if the model continues to hold. Here is an updated snapshot of the stock-to-flow model.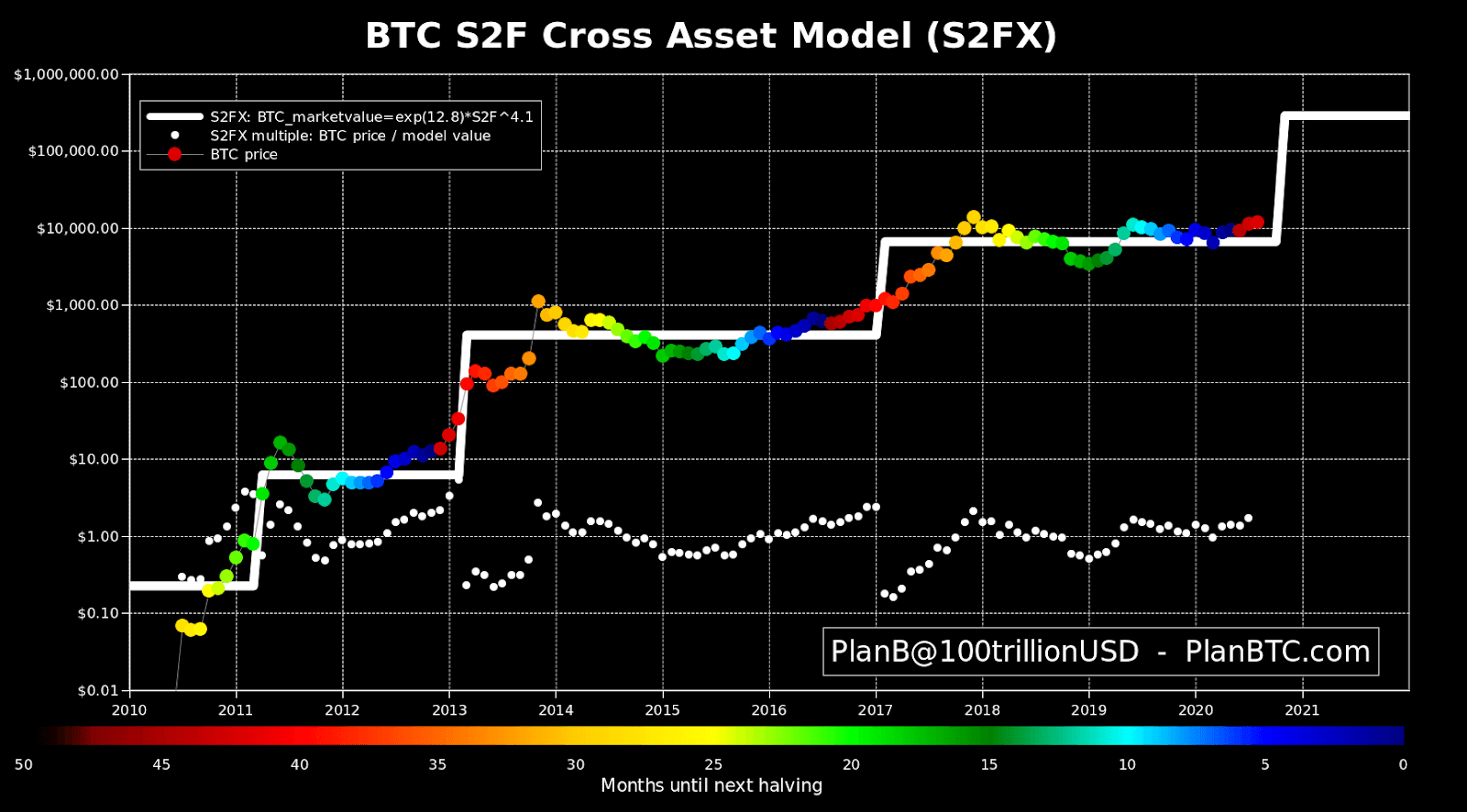 If history repeats itself, the price of Bitcoin should continue to appreciate as the red/orange dots would indicate from previous cycles. Whether or not it can reach $288k within this cycle is up for debate and beyond the scope of this article. That being said, I personally believe that a bitcoin price of $100k by the end of 2021 is fairly realistic given its fundamentals and the current state of the macro economy.
Bitcoin vs. Gold
If we're talking about a reserve asset whose main goal is to maintain purchasing power, it stands to reason that the most scarce asset would win out over time. As we've seen throughout history, good money chases out the bad.
Given that Bitcoin's terminal supply is provably fixed we can confidently say that Bitcoin is superior to gold in this regard. But what about the other monetary properties that make a great store of value?
In The Bullish Case for Bitcoin, Vijay Boyapati does a great job evaluating Bitcoin vs. gold as a good store of value.
Here's a quick recap:
Durability: Gold has survived thousands of years so it's the undisputed king of durability. Bitcoin on the other hand is still in its infancy so it's too early to draw conclusions. That being said, it has remained resilient against various attacks and has proven to be antifragile thus far.
Portability: Bitcoin wins hands down. You can transfer billions of dollars worth of value over the Bitcoin network in minutes. Good luck transporting that much gold across borders without massive lead times and transaction costs.
Fungibility: Gold provides the standard for fungibility since an ounce of gold is indistinguishable from any other ounce when melted down. While Bitcoin is fungible at the network level, some people are worried that certain bitcoin may become 'tainted' without privacy and anonymity improvements on the base layer.
Verifiability: The authenticity of bitcoin can be easily verified with 100% certainty by simply running a full node. Gold on the other hand is not immune to counterfeiting.
Divisibility: Bitcoin wins easily here. One bitcoin can be divided into 100,000,000 units known as satoshis. Gold bars are much harder to divide into lower units of value.
Established History: This is where gold has the biggest advantage over Bitcoin since it's been used as a store of value and medium of exchange for thousands of years. Bitcoin has only been around for 11 years and is still in the very early stages of becoming a trusted store of value. This however can be viewed as an opportunity since the future potential of Bitcoin is not yet priced in.
Vijay also provides a handy table which grades bitcoin, gold and fiat based on the monetary attributes listed above.
Given that Bitcoin is only 1.7% the market cap of gold while grading above it in many regards, I am pretty confident that Bitcoin will continue to outperform gold over the coming years and decades.
The Current Macro Environment
At this point, I hope I've explained why scarcity is important when protecting purchasing power and why I believe Bitcoin will continue to outperform gold as a store of value.
Normally I wouldn't be so concerned with maintaining purchasing power but we are truly entering unprecedented times. COVID-19 is only part of the story…
For those of you who haven't been paying attention, government debt from nation states around the world have been increasing exponentially ever since the U.S. abandoned the gold standard back in 1971. At the same time, interest rates have been steadily trending to zero as central banks continue to lower rates in order to drive growth in the economy.
He's a graph showing the U.S. 10 year treasury yield: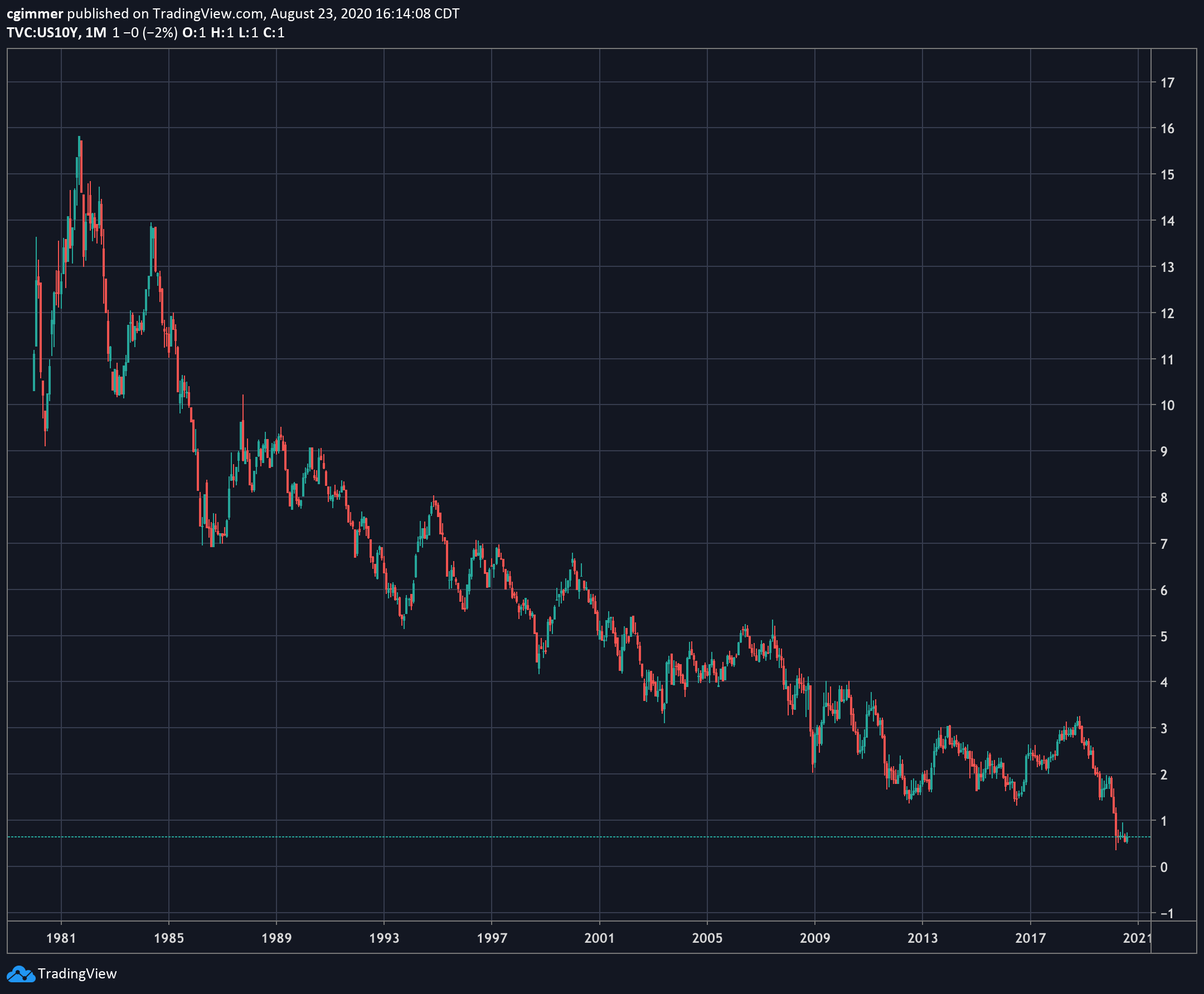 We've now reached an end game where rates can't go any lower unless we go negative like some countries have. Since interest rates are no longer an effective policy tool for stimulating the economy, the Federal Reserve and other central banks have been ramping up quantitative easing (QE) whereby they "print" money to buy up financial securities from banks and inject liquidity into the system.
While there's plenty of debate whether or not QE leads to CPI inflation (which is a flawed metric in my opinion), it seems pretty clear that QE has led to asset price inflation. In addition, due to the wealth inequality that continues to widen as a result of these policies, there are mounting cries for more permanent forms of universal basic income (UBI) which would certainly lead to CPI inflation.
Preston Pysh did a great job of explaining what's happening in the following Twitter thread. I highly encourage you to read through the whole thing.
I can't take the misuse of this terminology any more.

Inflation….Deflation….

Here's my point of view.

Central banks are aggressively "inflating" the fiat monetary base. Since 2008, the US federal reserve has expanded their balance sheet from .8T to 7.1T. Post 1 pic.twitter.com/B392HgNWH3

— Preston Pysh (@PrestonPysh) June 3, 2020
I also encourage you to listen to this recent episode of the investor's podcast where some incredibly smart macro thinkers break down exactly what's going on right now.
To summarize, we're now at a point where parking dollars in a savings account or buying short-term government debt is yielding a negative return when adjusted for inflation.
What's even more worrisome is that nation states across the globe are more indebted than ever and are likely to continue doing increasing amounts of QE and UBI going forward. The end result will be further currency debasement and a loss of purchasing power.
Bitcoin as a Reserve Asset
While many people are quick to dismiss Bitcoin for being "too risky", I believe there are now significant risks to holding fiat currencies especially over long durations.
It turns out that professional investors are seeing the same risks and are starting to gain exposure to Bitcoin as a result. One of the most notable examples of this is billionaire/hedge fund manager Paul Tudor Jones. He recently announced that he has almost 2% of his net worth in Bitcoin.
This particular quote echoes my current sentiments about holding cash right now:
"If you take cash, and you think about it from a purchasing power standpoint, you know your central bank has an avowed goal of depreciating its value 2% per year. So you have, in essence, a wasting asset in your hands."
Although Paul Tudor Jones and other notable investors adopting Bitcoin is a big deal, it wasn't as groundbreaking as the recent announcement by MicroStrategy that they've adopted Bitcoin as their primary treasury reserve asset. In doing so, they bought 21,454 bitcoins ($250M worth) which represents half of the cash and equivalents on their balance sheet.
It's one thing for a wealthy individual to buy bitcoin on their own, but it's a whole different story when it's a $1B+ publicly traded company that needs board approval to do so.
What fascinated me about this announcement was how CEO Michael Saylor explained the decision. He articulated it so well that I'm going to quote a few paragraphs from the press release.
"This investment reflects our belief that Bitcoin, as the world's most widely-adopted cryptocurrency, is a dependable store of value and an attractive investment asset with more long-term appreciation potential than holding cash. Since its inception over a decade ago, Bitcoin has emerged as a significant addition to the global financial system, with characteristics that are useful to both individuals and institutions. MicroStrategy has recognized Bitcoin as a legitimate investment asset that can be superior to cash and accordingly has made Bitcoin the principal holding in its treasury reserve strategy."
He also goes on to say…
"MicroStrategy spent months deliberating to determine our capital allocation strategy. Our decision to invest in Bitcoin at this time was driven in part by a confluence of macro factors affecting the economic and business landscape that we believe is creating long-term risks for our corporate treasury program ― risks that should be addressed proactively. Those macro factors include, among other things, the economic and public health crisis precipitated by COVID-19, unprecedented government financial stimulus measures including quantitative easing adopted around the world, and global political and economic uncertainty. We believe that, together, these and other factors may well have a significant depreciating effect on the long-term real value of fiat currencies and many other conventional asset types, including many of the assets traditionally held as part of corporate treasury operations."
Now that Paul Tudor Jones and MicroStrategy have de-risked Bitcoin even further, you better believe that other hedge fund managers and public CEOs will be taking a closer look.
Risks
Although my conviction in Bitcoin is very high, it's important to discuss the risks associated with it.
Volatility
If we're talking about adopting Bitcoin as a reserve asset, the main risk in doing so is short-term volatility. Since Bitcoin is still in the early adoption stage and is only a $200B asset, the price can fluctuate violently in the short-term. Just five months ago when COVID-19 began rocking the financial markets, Bitcoin's price dropped 50% in a matter of days. However, the price not only recovered within a month, but it is now up more than 60% year-to-date.
To mitigate the risk of having to sell at a loss, it's important to keep ample working capital in fiat dollars in order to meet any short-term obligations that may arise.
Regulatory Risk
In terms of regulatory risk, it's important to note that Bitcoin itself cannot be banned given its decentralized nature. Instead, governments could choose to ban the on and off ramps (ie Bitcoin exchanges) which would make it more difficult to buy and sell bitcoin. Theoretically, governments could also ban their citizens from outright owning bitcoin.
Personally, I think the risk of democratic governments banning Bitcoin is extremely unlikely at this point. For starters, the cost of enforcing such a policy would be extremely high given that Bitcoin is completely digital and cannot be easily confiscated unless individuals willingly give up their private keys. Second, game theory would suggest that any government who bans Bitcoin would be at a severe disadvantage if Bitcoin gets adopted as a global reserve currency. Wealthy individuals would simply flee to Bitcoin-friendly jurisdictions and spend their wealth there.
Central Bank Digital Currencies
Another potential risk would be for various governments to come together and create a digital currency with consensus rules similar to the Bitcoin protocol. However, I have a hard time believing that multiple countries will willingly come together and give up their monopolies on money.
Alternatively, central banks could choose to issue their own digital currency which is actually already starting to happen. The problem is that individuals would have to trust central banks not to inflate the supply of the currency. Essentially, this would be nothing more than a fully digitized fiat currency.
Protocol Risk
Finally, due to the digital nature of Bitcoin, there is always a risk that a bug is found in the software or the network itself gets hacked. However, Bitcoin has yet to be compromised in its 11 year history and the hash rate protecting the network continues to increase exponentially. With each passing day that goes by, the risk of a hack becomes less and less likely.
If you've heard people talk about Bitcoin getting hacked in the past, they are always referring to Bitcoin wallets or exchanges, not the protocol itself. This is like stating "the US dollar got hacked" as opposed to saying that a bank got robbed. Big difference!
If there ever was a severe hack to the Bitcoin network, there is always the opportunity of doing a hard fork. Admittedly, this would be very bad for the price of Bitcoin and the loss of trust could threaten the long term viability of the network.
It is also worth noting that most of the cryptography and encryption being utilized in the Bitcoin protocol is also being used by the legacy financial system as well as many other internet protocols. Therefore, if flaws were found in the encryption backing Bitcoin, we'd have far more serious concerns on our hand.
If there are any other risks I haven't presented, I would love to hear them!
Wrapping Up
The current state of the macro economy and Bitcoin itself are likely to be highly debated topics over the coming years.
On one hand, you have a group of people who think an ever expanding monetary base and increasing amounts of government debt doesn't matter as long as "inflation" is low.
On the other hand, you have many people who believe that quantitative easing and increasing government debt levels are leading to asset price inflation and a widening wealth gap.
After pouring over the research myself, I believe that massive amounts of quantitative easing combined with fiscal stimulus will continue to result in currency debasement. In addition, I expect governments to keep doing more of the same in attempts to fight the natural deflationary pressures of technology.
In order to hedge this risk, we've chosen to adopt Bitcoin as a primary reserve asset on our balance sheet.
Update: We've launched a new project called Bitbo. It's a real-time Bitcoin dashboard that allows anyone to monitor on-chain data, view live price action, and track key economic indicators. View the dashboard for free.