On November 23, 2015, my co-founder Marc and I launched Snappa. Five months later we hit $10k in MRR and continued growing at a healthy clip from there.
Although I've talked about it on various podcasts and incorporated it into some of my talks, I've never documented the entire launch process in a blog post.
This is something I've been wanting to write for several years and I hope you'll find it useful no matter where you are along your journey.
It All Started With a Blog Post…
Our journey to Snappa began in the fall of 2014 when Marc and I were working on a marketplace for Bootstrap themes and templates. After growing it to a few thousand dollars a month in profits, we started to plateau.
Given that the dominant player in the space was enjoying a first mover advantage and network effects working in his favour, we knew that we'd be fighting an uphill battle to continue growing the site. At that point, we wanted to stair-step our way to a bigger and better business. Preferably one with recurring revenue (SaaS).
Fortunately, something incredible happened just a few months prior. While poking around on Reddit, I noticed someone posted a thread about free stock photo resources that didn't suck. With several hundred upvotes, it was clear that people were digging it.
Since the resource being linked to was just a Medium post with a list of links, I figured I could use the Skyscraper Technique to create a blog post that was 10x better than the Medium article. Shortly after, I published my own blog post titled 21 Amazing Sites With Breathtaking Free Stock Photos. I made sure to add additional resources, discuss the different licenses each website fell under, added imagery, and made the post more comprehensive overall.
Side Note: The post was originally published on the BootstrapBay blog but we then ported it over to the Snappa blog once that became our focus.
After sharing it on various community sites like Reddit and Designer News, the post started getting some traction. But once it was posted on StumbleUpon, it started going viral!
The day after it was posted on StumbleUpon, we received over 17,000 visits to the blog post.

More importantly though, we started ranking in Google for "free stock photos" just several days later. This meant that the blog post started receiving a steady stream of organic traffic. As more people found the post, more people started linking to it and we continued to climb the first page of Google for various high volume keywords.
Seeding the Idea(s)
After several months of increasing traffic to our blog post, we started wondering whether or not we could take advantage of it. When we took a step back and looked at the blog post itself, a few things became apparent:
People were most excited about the CC0 (copyright free) resources
None of the CC0 resources had search functionality
Most of the CC0 resources were only releasing a handful of photos per week
None of the CC0 resources tracked views and downloads to easily identify the most popular photos.
Side Note: Most of the popular websites ended up adding search functionality soon after.
We then asked ourselves: "What if we built our own free stock photo site with search functionality?"
…
While all of this was going on, I started experiencing a pain point of my own. Whenever I needed to create a featured image for one of our blog posts, it became a real pain to make one in Photoshop.
For starters, I wasn't a graphic designer and we didn't have the budget to hire one. Second, it was incredibly time consuming to scour multiple sources for a quality stock photo and to put the design together.
When I looked around to see what other tools were out there, I found that they were either easy to use but overly simple, or very powerful but difficult to use.
We then started to ask ourselves another question: "What if we built a graphic design tool specifically for marketers and entrepreneurs?"
After working through these ideas, we came up with a plan. First, we would build a free stock photo site which we could easily promote within our existing blog post. Then, if our stock photo site gained traction, we could leverage the site to launch our own graphic design tool geared towards non-designers.
Building our "Audience"
After a few months of groundwork, we launched StockSnap.io in February of 2015. Initially, the site was a curation of 2,000+ CC0 free stock photos that were searchable and sortable.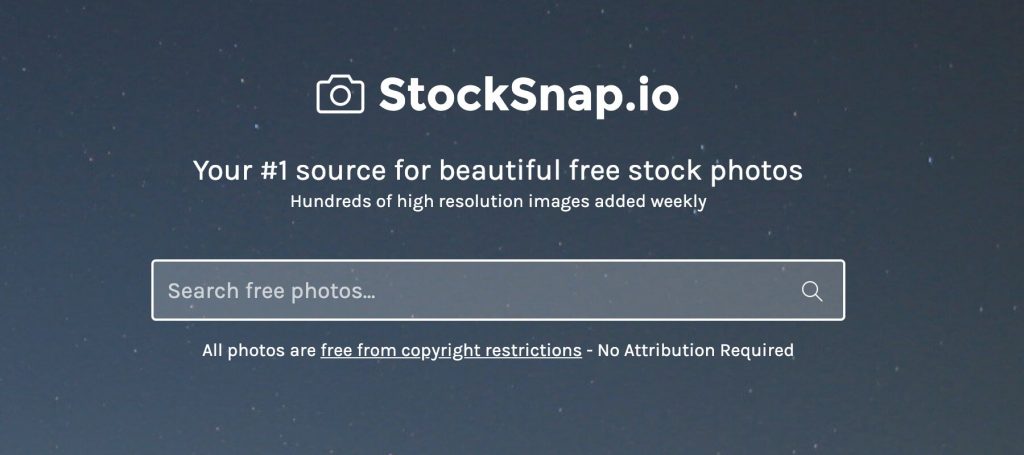 After launching, we were lucky to be featured in some very popular blogs early on like HubSpot, Shopify, and WebDesignerDepot. We also received a big boost of traffic when someone posted the site on Reddit and we springboarded to the top of the Web Design subreddit.
The most exposure we got however came from Product Hunt. The post received over 1,000 upvotes and we were the #4 most upvoted product of the week.

Although all of these promotional activities generated significant boosts in traffic and high quality backlinks, they didn't compare to the benefit we received by including StockSnap in our existing free stock photo blog post.
By simply adding StockSnap to our blog post, we were generating a significant stream of traffic to the site which compounded nicely as word of mouth spread. Within just a few short months, StockSnap was generating over 1M page views per month and would become an integral part of getting Snappa off the ground.
Side Note: A few years into Snappa we ended up selling StockSnap. As of today, we have no more affiliation with the website. I plan to write about the sale in a later post.
Validating the Product
Once we had traction with StockSnap, the next thing we wanted to do was learn about the people using the website. Although we had a hunch that a big portion of our users were using the photos for marketing, we wanted to be sure.
I took a page out of Alex Turnbull's playbook from Groove and designed a welcome email that asked one specific question: "What are you using the stock photos for?"
Here's the exact message I sent: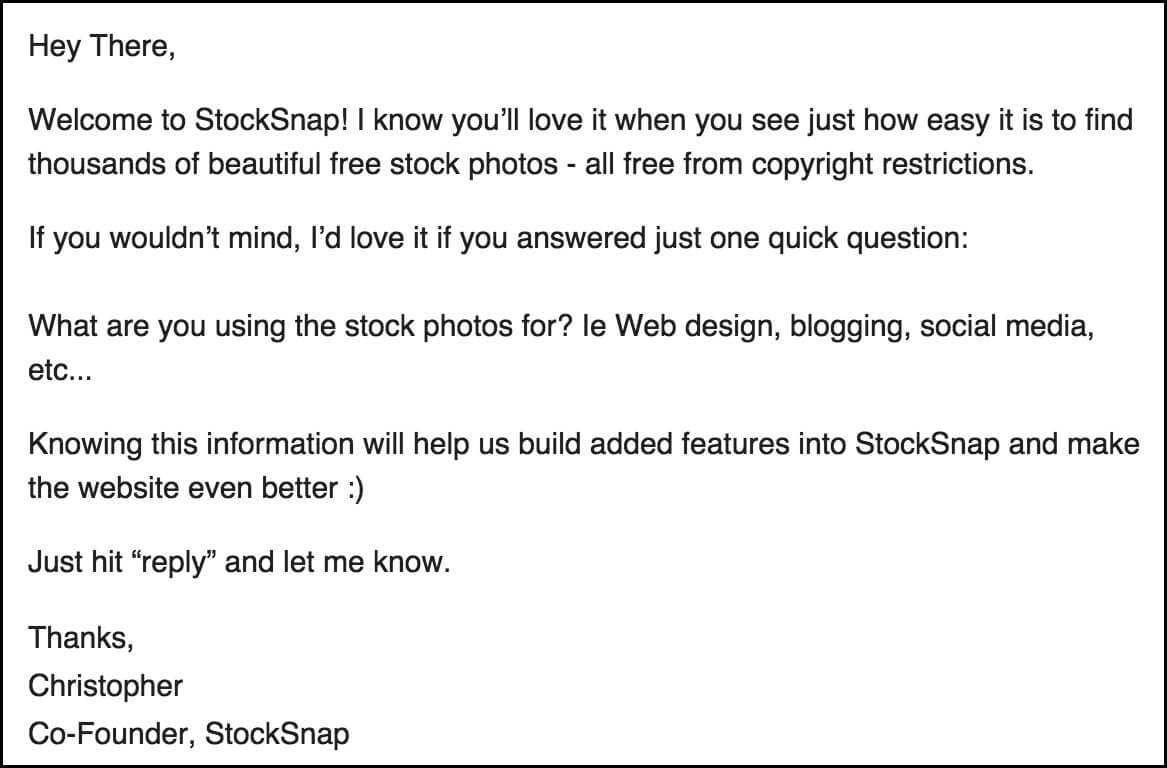 We then kept track of the answers that came in. Out of the 234 people that replied to the email during the campaign, 56% said web design, 40% said blogging and 29% said social media.
A few things to note with these stats:
A lot of the replies came on days when we were trending on the web design subreddit. The percentages were thus likely skewed a little in favour of web design
Most people had multiple uses (ie blogging & social media). Therefore, the percentages overlap with each other.
So with that bit of information, we knew that roughly 40% of StockSnap subscribers could potentially be interested in Snappa.
From there, we took things one step further. For those that replied saying they were using photos for blogging and social media, I asked if they would be interested in getting on a Skype call so I can learn about their process for visual content creation. I then scheduled a call with about 15-20 people.
On the Skype calls, I followed some of the principles I learned from Lean Customer Development. Essentially, I made sure not to ask any leading questions.
Instead, I asked open-ended questions like:
Walk me through how you create images for blog posts and social media.
Do you use any tools, apps, or services to help you with graphic design?
If you could wave a magic wand and be able to do anything that you can't do today, what would it be? Don't worry about whether it's possible, just anything.
Is there anything specific that you always do before or after creating graphics?
Is there anything else about graphic design and content creation that I should have asked?
From there, I simply listened and let the person talk. If they said something interesting, I would ask follow-up questions and dig in a little more. Essentially, I was trying to figure out whether or not they had the same pain points that I did without leading them there.
Fortunately, after conducting a dozen or so calls, I heard a few recurring themes:
People using Photoshop found it too complicated and difficult to work with.
People found it very time consuming searching multiple websites for suitable free stock photos and graphics to use in their designs. In addition, they worried about usage rights.
For those that were fortunate enough to have an in-house designer, they complained about slow turnaround times and expressed a desire to do things themselves when it came to simple graphics.
Once I finished conducting the calls, we were fairly confident that a product like Snappa was needed. Over the course of the next several months, Marc went on to build an MVP for Snappa.
Learning from the Beta
While Marc was building out the MVP for Snappa, we threw up a landing page and started driving traffic to it by promoting it on StockSnap via banner ads and a link in our sidebar.
Several months later, we had a few thousand email addresses on the waiting list and we launched our beta on July 1, 2015.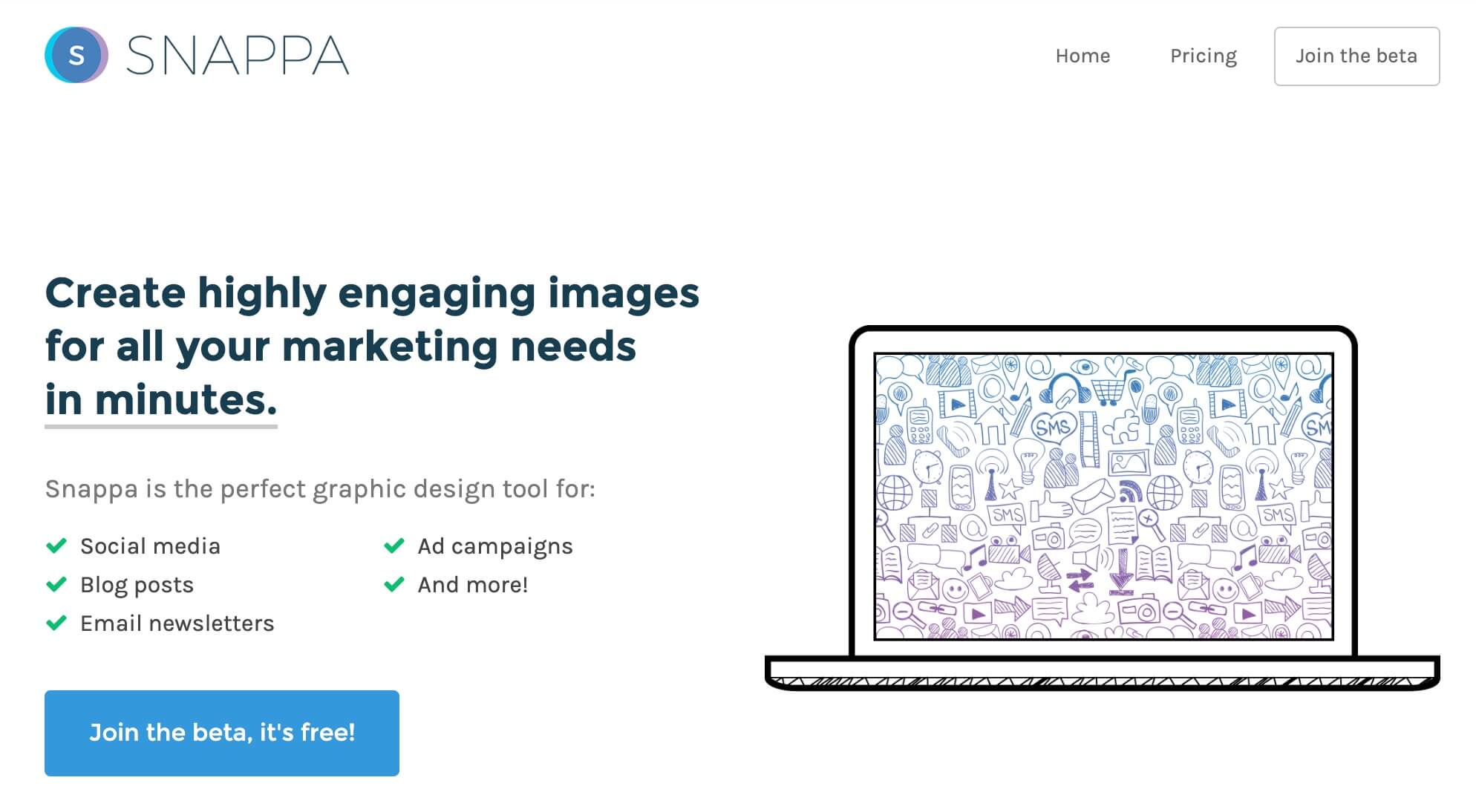 At this point, we collected as much feedback as possible both qualitative and quantitative. The main things we learned during the beta period were the following:
People loved having a built-in library of free stock photos. This was a key value proposition.
People loved the simplicity of the tool. They overlooked many of the glaring flaws because it was easy to use.
Designing from scratch was difficult and intimidating. We knew that templates had to be a key component of the tool.
After fixing all the major bugs during the initial beta release, Marc and I discussed how to proceed from there. On one hand, the product was still lacking many features that we wanted to build based on customer feedback. On the other hand, we needed to start charging money to fully validate the product and start supporting ourselves financially.
We then drew a hard line in the sand and settled on a few key features that we felt were absolutely necessary to launch with. Once those were done, we were going to start charging no matter how uncomfortable we felt. Otherwise, we could potentially keep building forever and the product would never get launched.
The Official Launch
It took nearly 5 months for Marc to build the rest of the features we agreed on and to add in all the necessary paywalls and back-end infrastructure. Once everything was done, we set an official launch date of November 23, 2015.
As a thank you to our beta users and a way to generate some early sales, we ran a special promotion for the first week. Anyone who upgraded to a paid plan within the first week would receive a 33% lifetime discount on a subscription.
Here's the email we sent out: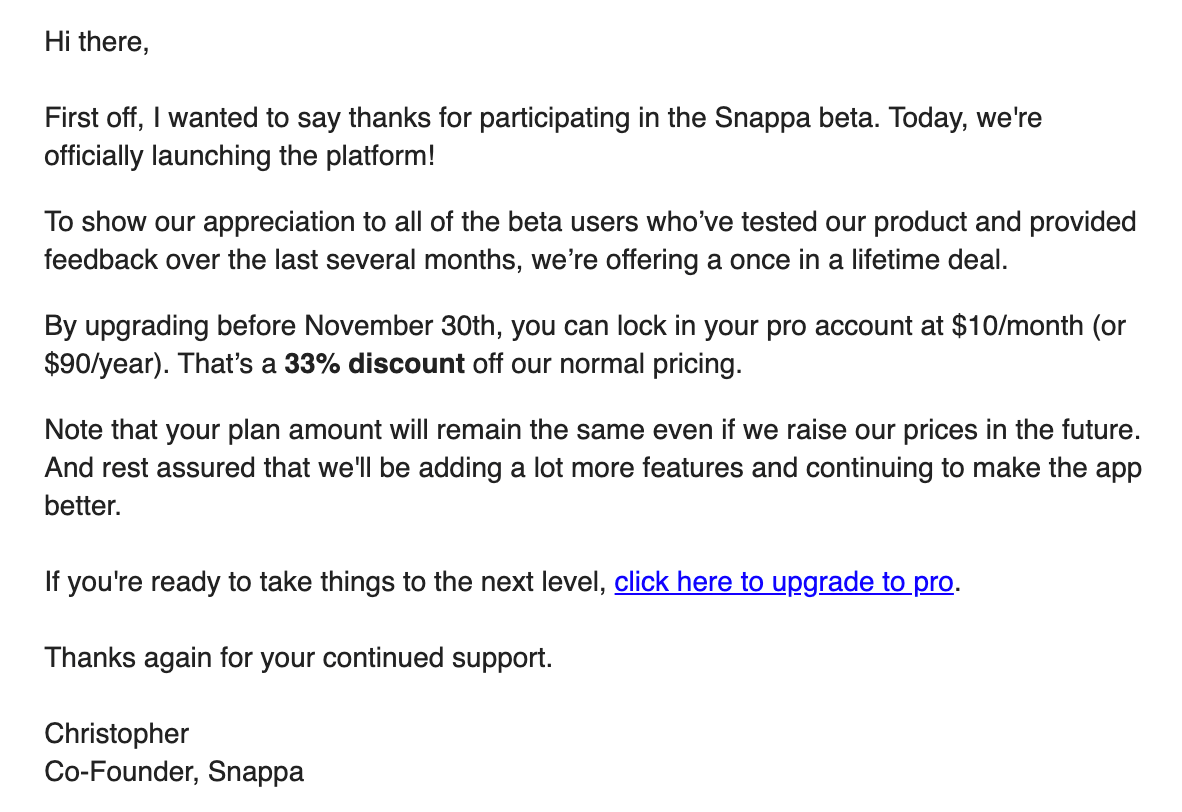 Clicking the send button on this email and turning on the paywall were both incredibly exciting yet extremely terrifying. Although we did our best to validate the product and talk to potential customers, we wouldn't know if Snappa would be viable until we started charging money. If it wasn't, we would have essentially wasted an entire year and it would have been incredibly demoralizing.
Fortunately, the initial response was everything we had hoped for. Once the first week of the promotion was over, we had signed up 239 customers which amounted to $2,000 in monthly recurring revenue (MRR). By the end of December, we grew to $4,000 in MRR.
Although the product still needed a ton of work, and we were barely keeping our head above water, the numbers kept going up and to the right.
Five months later, we were able to hit our short/medium-term goal of $10,000 (USD) in MRR.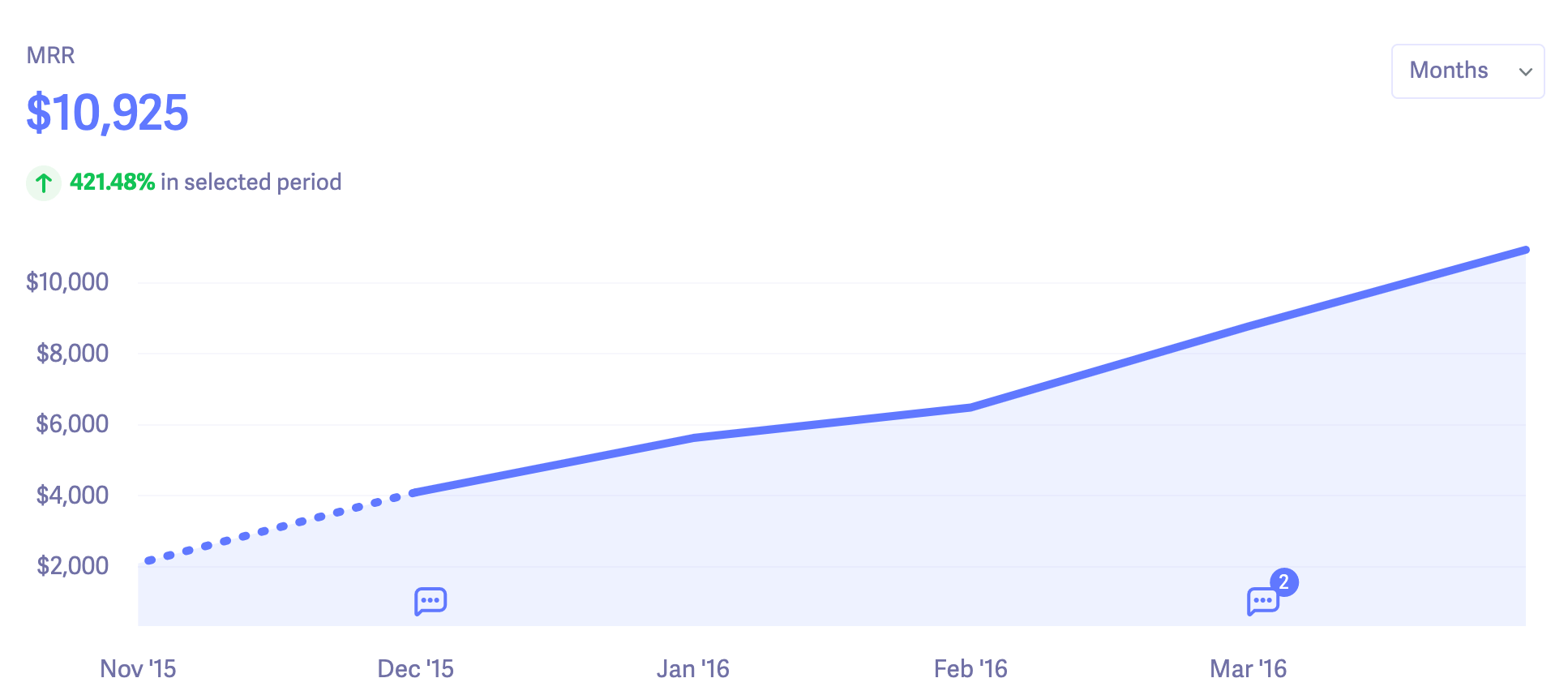 At that point, we knew that we had product market fit (however you want to define it) and the business had momentum. We didn't know how big it could get, but we knew it was something worth working on.
To keep up with the insane amount of dev work that needed to be done, we hired our first developer (who's still with us today). Meanwhile, I pushed ahead with marketing and support as we continued our journey to build a profitable and sustainable SaaS business.
Update: Read my follow-up post on how we scaled Snappa to $1M in ARR with a marketing flywheel.
Wrapping Up
Like most bootstrapped software companies, Snappa didn't emerge out of thin air. It was made possible because of all the groundwork that was laid down beforehand (and of course a bit of luck). In many ways, it was the prototypical "overnight success" that was several years in the making.
As Rob Walling likes to say: "There are no Cinderella stories." This case was no different!